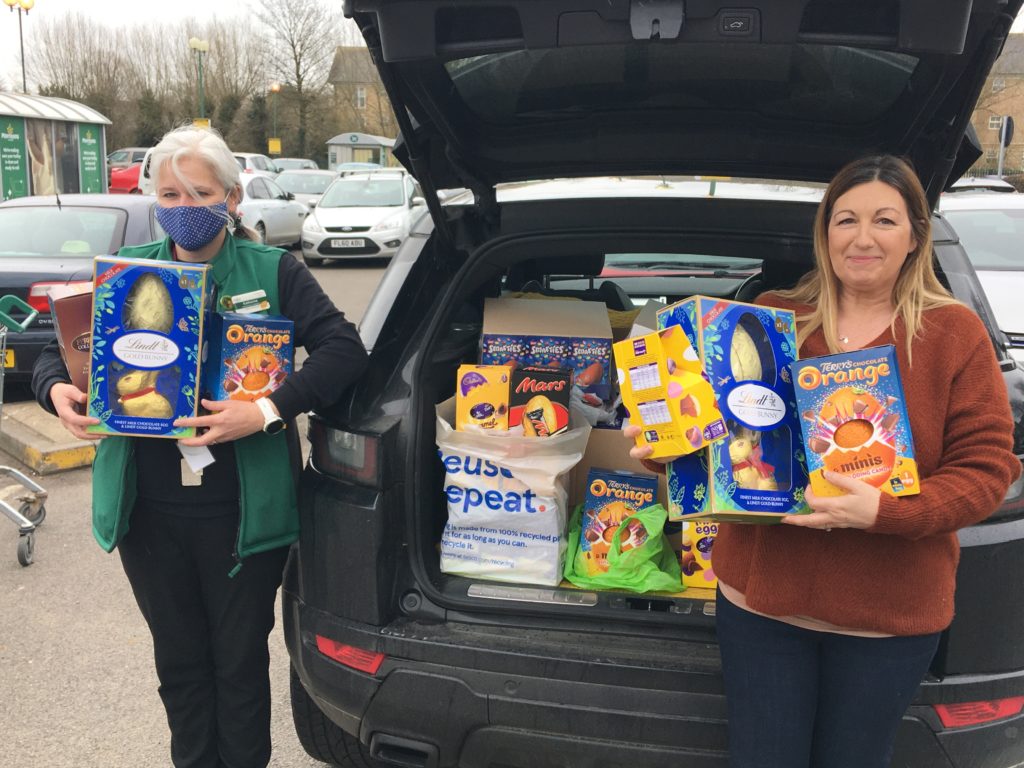 Eggstremely Big Donation
The eggscellent volunteers of Leighton Buzzard's own radio station Leighton Buzz Radio have donated 124 Easter Eggs to the collection point at Morrisons' Lake Street Leighton Buzzard store. This amazing haul was donated by the volunteers/presenters of the station as part of their mission to support the local area and it's charities. Station manager, Andrena Carden-White said:-
"I am so proud of the generosity of all our presenters. The station is entirely run by volunteers who already give up a lot of time and work hard to keep our local station going.  We are passionate about supporting our local area and I'm blown away by the number of eggs we have been able to donate".
Helping Two Local Charities

Morrisons' are holding the Easter egg collection  for the Leighton Buzzard Children's Centre and Keech Hospice Care both amazing local causes.  It is not too late to make your own donation, you will find the food donation centre located near the checkouts. Katharine Smith, the Leighton Buzzard community champion at Morrisons said:-
"this is an incredible donation from the gang at Leighton Buzz Radio and has really boosted the amount of Easter eggs we can give to these brilliant charities any eggs donated are going to help people going through very hard times and particularly this year, more than ever we need to spread some joy"

A cracking result!
Pictured:  124 Eggs from Leighton Buzz Radio Volunteers ,  Egg Donation station in store,  Katharine Smith, Community Champion at Morrison's LB,  Andrena Carden-White, founder and station manager at Leighton Buzz Radio

You can find out how to listen to Leighton Buzz Radio here and to stay updated on all of Morrisons' news and charity appeals follow their Facebook page
Leighton Buzz Radio is a not-for-profit radio station run entirely by volunteers.  It was launched and funded by Andrena Carden-White in February 2019 and since it's start now has over 30 volunteers and 27 specialist shows a week, plus the Buzzing Music Mix with music for all tastes.  The station is broadcast online, on mobile apps, on Facebook and on smart speakers.
Add your news to Bee Local Magazine Bee Local Magazine is a printed community magazine which is delivered to over 19000 households every edition. There are 10 editions per year