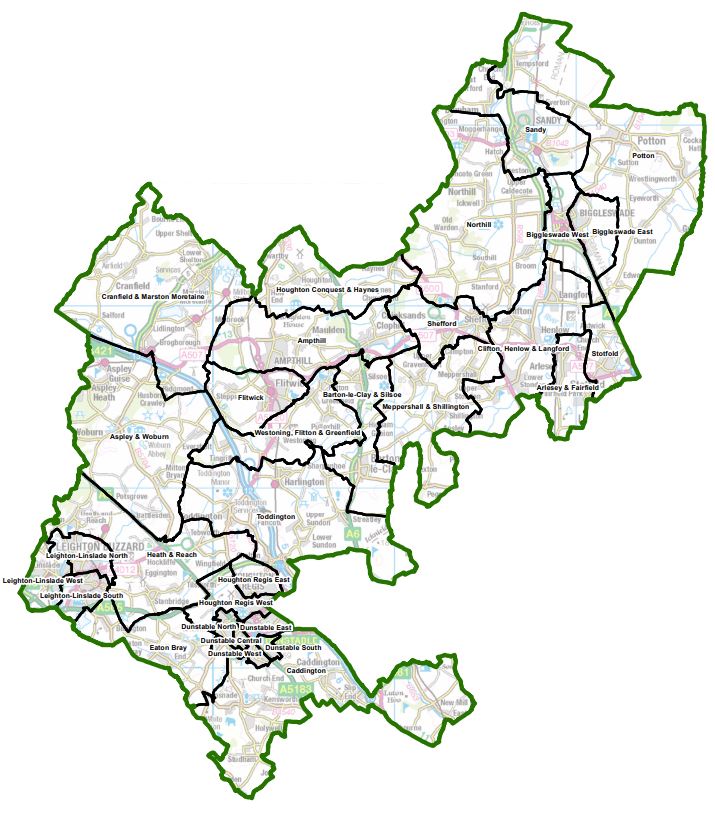 Central Bedfordshire is set to have new boundaries for its council wards.
Following a review, the Boundary Commission has today (12 January 2021) launched its final recommendations for the whole of Central Bedfordshire.
It says residents should be represented by 63 councillors. This is four more than there are now.
There will be 31 wards, comprised of nine single-councillor wards, 12 two-councillor wards and ten three-councillor wards. The boundaries of the 19 wards should change, 12 will stay the same. You can view a high-resolution boundary map here. Or view an interactive map here
The Local Government Boundary Commission is the independent body that draws these boundaries. It has reviewed Central Bedfordshire to make sure councillors will represent about the same number of electors, and that ward arrangements will help the council work effectively.
According to the Boundary Commission, local residents and organisations made 375 comments to help decide the new wards. Changes in response to what local people said include:· renaming the proposed Arlesey ward to Arlesey & Fairfield
· recommending a revised pattern of wards for Dunstable that more closely resembles the existing warding pattern
The Commission has made further changes to its earlier proposals. Details can be found on its website.
Parliament now needs to agree the changes. The new arrangements will then apply for the May 2023 council elections.