On February 6, 2022, Her Majesty Queen Elizabeth II  will have been Britain's monarch for an unprecedented 70 years. Queen Elizabeth II will be the first of our nation's monarchs to ever celebrate a Platinum Jubilee.
Although today was Her Majesty's official ascension to the throne, national celebrations are planned to be celebrate in June. There will be a four day bank holiday weekend from Thursday 2nd June to Sunday 5th June, meaning we will be given two days off work to celebrate 70 years of service by Her Majesty the Queen.
Leighton Buzzard has its own celebration plans you can read about them here. The include a beacon lighting, one of 1500 to spread across the UK countryside.
Centre:mk have been looking back through the image archives at MK City Discovery Centre and found this wonderful photo of the Queen with Jock Campbell (Chairman for the Milton Keynes Development Corporation) and Stuart Mosscrop (Chief Architect of CMK) when she opened Queens Court in 1979. Congratulations to The Queen on her record reign!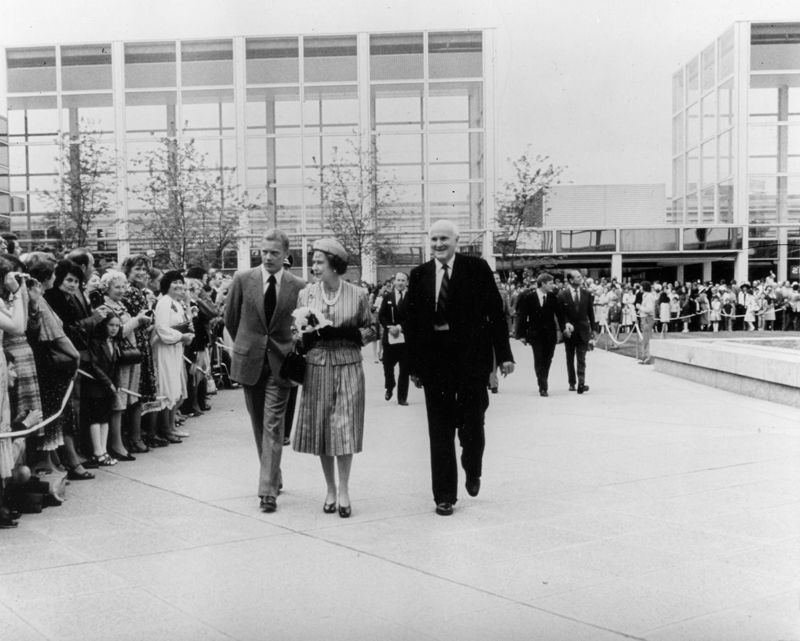 Photograph by John Walker. © Milton Keynes Development Corporation. Crown copyright. Used under the Open Government Licence v 3.0. Image courtesy of Milton Keynes City Discovery Centre."